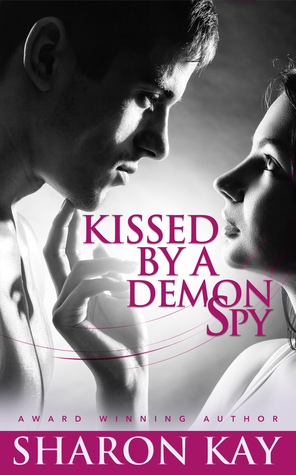 Book Title: KISSED BY A DEMON SPY
Author: SHARON KAY
Publisher: indie
Publishing Date: October 7, 2014
Length: 146 pages
Source: author in exchange for an honest review
This novella is a companion piece to the Solsti series and can be read as a stand-alone.
Kidnapped as a teen and forced into a life of sexual slavery, Garnet vowed long ago to do whatever she could to spare others her fate. When karma comes full circle with an offer of freedom for her and her young son, she jumps at the chance.
Masquerading as a village innkeeper, Aden keeps his espionage work secret from the gentle pixies he lives among. Using his skills to prevent a group of vicious demons from attacking the innocent, his world is draped in mist, shadow, and danger.
Steeped in shame, Garnet is loath to share her past with Aden. But Aden senses a sweet, loyal strength in her that no amount of horror can erase. His dangerous work is the opposite of the stability Garnet craves. Yet Aden's patience and strength make him the hero she never had. When the enemy targets them, Garnet and Aden realize that honesty is the truest form of courage.
Disclaimer: I received a free electronic copy of the aforementioned book in exchange for my honest review as follows. No other compensation was offered nor would it have been accepted.
If you have read the Solsti Prophecy novels, I bet you were wondering whatever happened to Garnet, who played a key role in the escape from that hellish prison. Are you scrambling to remember? Well, now you do not have to! Sharon Kay has given us a wonderful novella (approximately 146 pages according to amazon, 170 according to goodreads) to tell us Garnet's after story.
Garnet, and her son, Dash, are hiding out in the kitchen when news comes that the overlord is dead. Fearful for their lives in the uprising that is sure to come, Garnet hides herself and Dash behind a secret door, and waits until the noise settles down. When it does and they emerge, it looks as if they are about to be caught, but instead, Hunter & Bianca show up and port them to Garnet's destination of choice: Ivydale, where she once lived over 150 years ago.
Garnet is a cook and it just so happens that Aden, who runs the inn, is looking for a cook. Serendipity! And he's not bad to look at either!
With this novella we get Garnet's story, both past and present, and a wonderful blossoming romance between her and Aden...who has secrets of his own.
I really loved the Solsti Prophecy novels and was pleased with this standalone novella. Not only are we revisiting a character whom I wanted to know more about, but I also liked how it touched base on something that is a huge problem in our modern society: sex trafficking. It's not something we think about often since we, thankfully, live in the United States and are rarely exposed to such stories, but it is something that is happening in the world.
Lose yourself in this story with its courageous characters and pick up the rest of the Solsti series. I know I enjoyed every last page!